Links to our other sites:
Livershunt.com
Collapsing Trachea
Dinks Memorial Fund
Puppymills.com
Legg Perthes
Yorkie Encephalitis
Join our AngelsandSupporters list!
Sign up for Yorkie Spice List
Yorkie Spice Pages



©2018 / YTNR
All graphics and information on these pages belong solely to YTNR.
Please don't copy or remove anything from these pages.
Web design by Laura Graphic Creations
Emma's Special Story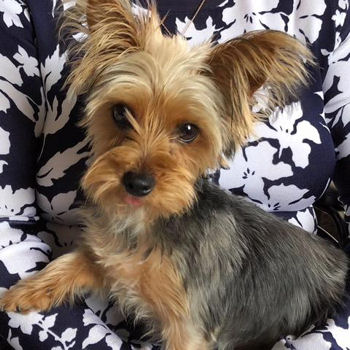 April 26, 2017:

I am writing to everyone to see if everyone would be so kind to help a little with some donations for Emma.
Emma is the little 10 month old puppy that was surrendered to YTNR by her owner. At first it was thought that she had Liver Shunt because she would have tremors and little seizures and would throw her head back. But after UT did some testing it was found that she did not have Liver Shunt. They feel it might be neurological. The University of Tennessee would like to do an MRI of the breain and a scan.
This is going to be $2500, and we already have about $1000 of medical bills on Emma already. Because she is only 10 months old we want to do these tests to see what is wrong and how we can fix her so that she has the chance to grow old with a family. But as we all know tests are expensive. We have had some heavy duty expenses lately with sick rescues. For example: our newest surrender BoBear who is being fostered by Diane in Tennessee does have Liver Shunt and many crystals in his urine. He will be having the surgery.
But right now, I am really pleading for help! I know it seems presumptuous of me, but if everyone could send something, it would help us get her the help she needs.
I am going to send $25 for Emma. Won't you please match me??? For Emma?
I thank you for anything you can do. God Bless and God Bless Emma.
Patti Kushnir

Any donations to help pay for her medical will allow us to help another dog in need.


You may donate money here to help replenish funds for future Surgeries:
Contributions for additional medical expenses are welcomed and appreciated. You may make a donation to Yorkshire Terrier National Rescue her by Paypal


or mail a check to:
Yorkshire Terrier National Rescue, Inc.
c/o Mary Elizabeth Dugmore
1065 Lewis Road
Chapmansboro, TN 37035