Links to our other sites:
Livershunt.com
Collapsing Trachea
Dinks Memorial Fund
Puppymills.com
Legg Perthes
Yorkie Encephalitis
Join our AngelsandSupporters list!
Sign up for Yorkie Spice List
Yorkie Spice Pages



©2018 / YTNR
All graphics and information on these pages belong solely to YTNR.
Please don't copy or remove anything from these pages.
Web design by Laura Graphic Creations
Looking for a new Home...
To rescue a Yorkie, a minimum donation to Yorkshire Terrier National Rescue is required based upon on the age and condition of the dog and medical expenses incurred beginning at $150 plus a $25 fee for Microchipping. Each dog is Microchipped before going to it's new home. Read about our Microchip Policy here.

If you are interested in a Yorkie that is not in your home state, you may still send an inquiry, however, every effort is first made to place the dogs locally, however in some circumstances we do allow the adopted families to come pick the dogs from their foster home.

We tend to have more people willing to rescue our Yorkies than we have dogs available. While this may mean that you may have to wait a considerable amount of time before a rescue becomes available, it is the best possible situation for our Yorkies needing new "forever" homes. You must fill out the form to be put on the waiting list, and someone in your area will contact you.

Thank you, Mary Elizabeth Dugmore

Come see our Special Needs Dogs here. These dogs need extra help. Any donation you can make will help us help little dogs like this needing extreme emergency care.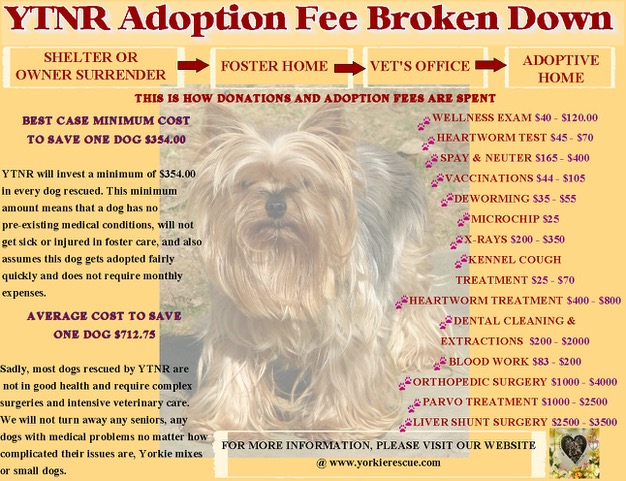 Available Rescue's Below:

Southern California

Grace / Adoption donation is $100

October 2017
This precious little girl is Grace. She is estimated to be about 12 years old. She is very friendly, sweet, and quiet. She enjoys sitting on your lap, or beside you on the couch. She gives kisses upon request. She loves her food, but most of all, she loves to go for a walk. She is good in the car, although she will walk around the car to different windows if not confined. She gets along very well with other small dogs, but has not been seen with cats, or large dogs. She gets along with children over the age of 8 as long as they are mature enough to handle small dogs.


Unfortunately, Grace's teeth have not been well taken care of, but due to a heart murmur, anesthetic dental cleaning is not an option for her. Because of the heart murmur, Grace may need to be on medication for the rest of her life, but because of her small size, the cost will be minimal. Grace is a small girl weighing in at 6.9 pounds, and she's a beautiful black and silver Yorkie. She is full of love. Grace would do well in a home with a stay-at-home mom or dad, or other small dogs her size. Grace is micro chipped, vaccinated, heart worm tested (negative) and is spayed. If you're looking for a great companion, put "GRACE" on your application. Adoption donation is $100.00, includes microchip.



Paddywak / Adoption donation is $250

May 2016
Paddywak came to us from a high kill shelter in L.A. He seemed so very small and compliant, not especially reactive for an 11 year old boy. He had never been nuetered and his breath could knock you over from bad teeth long uncared for. When he was placed in the home among the greeting family of yorkies he seemed ready to do his job which seemed to be mounting any willing volunteers. There were none and he was quickly rebuffed and soon avoided. Paddywak had to learn a new way of life. From his reaction to things this little boy had never been talked to, loved or played with by a human and apparently was only bred to reproduce. Housetraining was a puzzle to him and affection quite foreign.


Today this little boy is a new "person". He has had all his shots, neutered and fresh breath. His teeth cleaning really meant removing rotted teeth that didn't even bleed.....there was only infection left in the gums. He is healing, happy and attached at the lap. Sit down and he becomes part of you, move to the next room and he is by your feet. Bedtime is the best time because then he is snuggled up next to you in bed. Life has never been so good ! He is cautious with strangers but always gentle. When the others bark at imagined bad mailmen and other dangers Paddywak joins in but nothing comes out. Wherever he lived before they made sure he didn't complain so they had him debarked.
Little guy, big love now. He is ready for his best home ever! Adoption Donation is $250, includes microchip.


Northern California




Elvis/ Adoption donation $600

October 2017
Hey Folks- Elvis is in the building! This 2 year old pup Ain't Nothing but a Hound Dog, of Yorkie/Long Haired Chihuahua parents. He is a lanky 9 lbs of hunka-hunka burning love. Elvis is a bit shy with strangers and needs a family to teach him how having dog manners opens up a whole world of going for bye-bye rides and sleeping on his human's beds.


Elvis is fully vaccinated, heart worm negative, micro chipped, neutered and has had a blood chemistry panel also. This guy is a bit underweight, but his appetite is good so he should fill out quickly. We want Elvis to go to a home where he can run in a yard or park and have a dog buddy that likes to play as much as he does. Don't let Elvis leave the building before you get a chance to meet him, so fill out an adoption application now with his name on it. Adoption donation is $600.00, including micro chip.
Fill out an Application now!





Daisy / Adoption donation $600

June 2017
Daisy is about 10 years old and weighs 10 pounds. She used to spend her days and nights in a kennel nursing her latest litter of pups. That was her job - to produce puppies to sell. She is now retired from that life and is learning the joys of being a companion instead of a commodity. Daisy is super friendly and loving. She is smart too. She will go out the doggy door to do her business, but still needs reinforcement to not forget and potty inside. She loves to go where you go and never met an animal or person she didn't like. She is spayed, had a complete dental cleaning, she has been heartworm and fecal tested for parasites. Daisy is also up to date on her vaccinations and has been microchipped. Please give Daisy the sparkle she needs to live her true golden years as she was always meant to. Adoption donation is $600.00, includes microchip.


Fill out an Application now!





Ella / Adoption donation $700

May 2017
Meet Ella! She is ready to meet you. She loves people and will plant her self right in your lap on on your feet if you're standing up. Ella is 5 years old and weighs 10 pounds. She is a former breeding dog. Ella has had her teeth cleaned, her vaccinations updated and she is microchipped. We had a blood panel done ( all good!) and her Fecal parasite and Heartworm tests were negative. Ella has a natural tail. She doesn't mind other dogs, but has an alpha personality so make sure any other dogs in the home are prepared to become Queen Ella's subjects. Ella is not used to being a pet, so she will have a transisition time with her new family learning proper doggie behavior in a home. She is smart and loving and truly wants to please her people.


Fill out an adoption application now. Adoption donation is $700.00, includes microchip,
Fill out an Application now!


Tennessee


Fill out an Application now!


Rex / Adoption donation is $500

February 2018
Rex is a beautiful one year old, lab, great Pyrenees, mix, he was abandoned on our farm at 12 weeks old with terrible skin problems which we treated, he is a BIG! happy, loving boy. Adoption donation is $500, includes microchip.



Fill out an Application now!


Rosie / Adoption donation is $425

January 2018
Hi everyone I want you to meet this little cutie her name is Rosie. We really donít know what breed she is, we are thinking she is a Chihuahua mix. Rosie is 6 months old and weighs 25 pounds. Rosie is young so she will need help with potty training. She is very sweet and loving. She wants a home with a fenced yard so she can run like the wind. If you would like to adopt her please put her name on your adoption application.


Rosie is UTD on shots and is spay. She also comes with a microchip. Rosie is waiting to hear from you. Adoption Donation is $425, includes microchip.



Fill out an Application now!


Opie / Adoption donation is $1,000

December 2017
Meet Opie a 2 year old Golden Retriever male, very active and friendly boy, beautiful, needs an active lifestyle companion surrendered because of divorce and left in apartment for too many hours. Absolutely needs a large fenced yard and in house privileges.


If you can give Opie the home he needs please add his name to your application. Adoption donation is $1,000, includes Microchip.



Fill out an Application now!


Oscar / Adoption donation is $300

December 2017
Oscar is a handsome 10 pd boy, who does tricks, completely housebroken and ready to find his forever home. He is twelve years old and in excellent health. Oscar doesnít like cats and has been chasing my cats every chance he gets although he hasnít hurt them he just thinks itís his duty to get them off the porch! He will make a good buddy for an active woman or man. Adoption donation is $300.00, includes microchip.